edX e-learning platform
Introduction
Open edX is an open source e-learning platform. Created by MIT and Harvard University, edX is an online service joined by hundreds of leading global institutions and being used by millions of people. Open edX provides a platform for enterprise training and capture tribal knowledge.

ASM is an edX partner, Open edX service provider and contributor.
Nowadays companies spend an enormous amount of money on training their resources. An article from Forbes states that companies have spent nearly $130 Billion on corporate training as of 2014. edX is a MOOC (Massive Open Online Courses) platform. It is both less expensive and more flexible than many traditional Learning Management Systems. edX also provides a very engaging learning experience where employees can have different experiments and witness their outcome without investing money into a real equipment.
edX Architecture
Learning Management System
Learning Management System (LMS) is a software platform that store and deliver training content and track involvement in training. LMS is used to manage online content and manage distance learning processes. LMS enables Content providers to create and support a large number of online learning courses that can be accessed by students anywhere in the world.
Features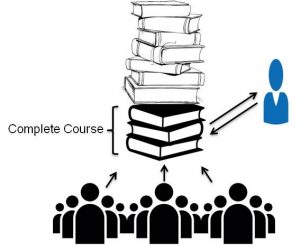 Simple learner Enrollment
Content import and LMS integration
Convenient exam proctoring tools
Convenient content Authoring & Management
Custom Theming
Content Management System
Content Management System is the course authoring environment. edX studio allows Content developers to put content together in a way that reinforces learning, integrate videos, discussions and a wide variety of assessments over an easily assessable GUI.
Features
Course content creation and management
Integration of LTI components
Course schedule
Set Grading policies
Customized course publication
edX Insights
edX analytics or edX Insights makes information about courses available to course team members who have the Staff or Admin role. edX Insights provides these course team members with data about learner activity, background, and performance throughout the course. Using edX Insights can help you monitor how learners are doing, and validate the choices you made in designing your course. It can also help you re-evaluate choices and inform efforts to improve your course and the experience of your learners.
Features
Evaluating reported data against your expectations and hypotheses
Understanding the context of the course run: the environmental factors and choices that make each run unique
Deciding whether action is called for
Selecting the action to take, and when
You may also like